.................................................
IMPORTANT! THE EQUIPMENT IS NOT INTENDED FOR HOME USE AND CANNOT BE OWNED BY A PRIVATE PERSON. IT CAN ONLY BE PURCHASED BY A SPECIALIZED COMPANY.  
.................................................
After three years of waiting, the youngest, but the biggest member of the Pálinka Master product family, the Pálinka Master Hercules production pálinka still is finally ready. The one-step, commercial equipment, which is suitable for carrying out excise activities, is based on the same concept as the rest products of the family. It combines the already invented good qualities, abandons the child diseases and incorporates its own added value.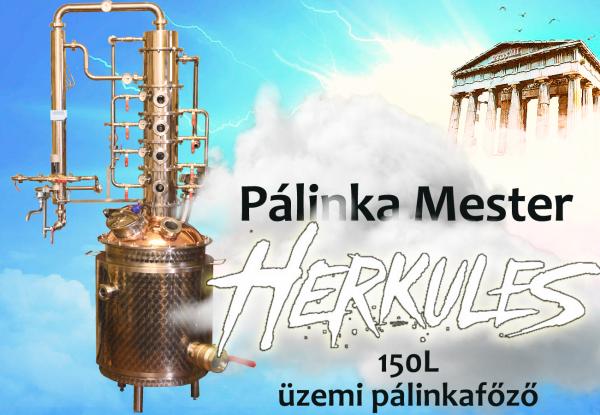 We wanted to enter the market with a size and value ratio that is currently missing. The small size offers an opportunity for those who are unable to sacrifice tens of millions of forints as an initial investment for a production system, but still want to produce quality and quantity. Speed is an advantage, but it is also an advantage if the equipment is suitable for distillation of smaller amounts of mash. This can be effectively used both in paid distillation and in commercial production.
Pálinka Master Herkules
One-step commercial pálinka distillation equipment with 150 litres filling capacity
Technical data
Pot:
150 litres filling capacity
4301, 2mm thick acid-resistant stainless steel pot, insulated with rock wool insulation, scaled
double walls, water as heat transmitter, closed-circuit, with safety fittings (pressure relief valve in the steam chamber, blow-off valve and suction valve)
built-in window on the pot shale
adjustable legs
flame retardant flange
electric heater system with 3 x 6kw filament
filling and discharging pins, and a 4" ball valve for draining the mash residue
Top:
2mm copper dome with polished surface
built-in window and rooflight
200 filler opening (optionally can be set up with a mash pump  loading stump)
mixing device with motor/drive on the dome
adjustable blade height for less amount of mash
shifted mixing shaft for removing the shaft without engine dismantling
Fractionating column and cooling system:
4301, acid-resistant stainless steel column structure, 3 x copper plates with bubble cap
1 bubble cap per plate
plate exclusion on each level / levelling per plate
washing per plate / 5 washing heads / cap washing
lowest level (reflux part) with glass washer/window
bundle pre-cooler (deflator)
bundle end-cooler
water cooling with temperature control
stainless steel collecting pot for measuring the alcohol ratio (eprouvette)
digital core thermometer and analogue meters
prepared for alcohol ration meter device, but without alcohol ration meter device
without sampling device
provided with seal locations required by tax authorities
Herkules dimensions:
pot diameter with fittings: 1200mm
full width of the unit with fittings: 1500mm
full heigth of the unit: 2400mm
Energy demand:
3x6 KW, consumption 600-700 HUF/hour during heating time. Lower power consumption during distillation time.
For a full distillation (150 litres filling) the energy consumption is 1500-2000 forints (counted with daytime, discounted 35 HUF/kw price).
Heating modes:
For systems with larger filling volumes, the heating mode can be prepared for steam supply and wood heating.
Cooling water consumption:
80-130 litres per distillation, 15-17C cooling water (3 bar).
Distilling time:
2-3 hours/distillation
Pálinka Master Herkules 150 litres, one-step, commercial pálinka distilling equipment